King Of Kindness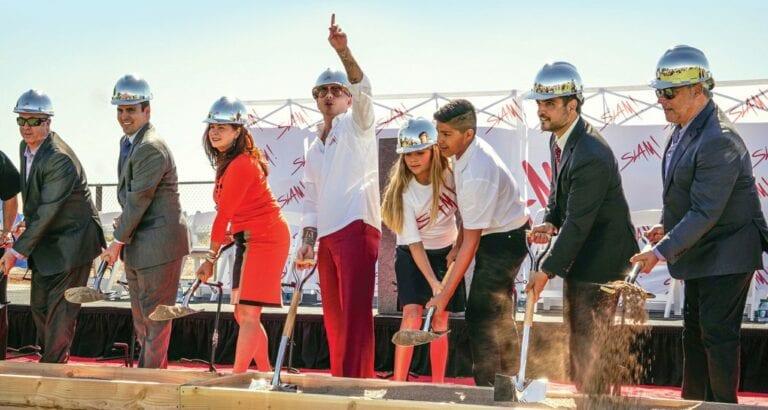 To his fans, rapper Armando Christian Pérez is known as Pitbull, Mr. 305 or Mr. Worldwide. Yet, beyond his passion for music, Pérez also lives to give.
Over the past decade, the Grammy-winning artist and noted philanthropist has flown cancer patients from Puerto Rico to the mainland after Hurricane Maria to continue receiving treatment, anonymously donated to help several families rebuild after wildfires devastated California and launched a chain of SLAM! charter schools to motivate today's youth to succeed.
The talented Miami native recently sat down with Linda Behmoiras, publisher and CEO of The Boca Raton Observer, to discuss his philosophy on giving back.
Pérez, 39, is candid when talking about his humble beginnings. After his parents, who were Cuban immigrants, divorced, Pérez was raised by his mother in Miami and, in his youth, was surrounded by strong women: his grandmother, aunt and sister. Money was tight, and they moved often, but his mother always impressed upon him the importance of education.
"I'm someone who went to about 25 different schools in good neighborhoods, bad ones and the worst ones, and I understand the struggles of these students," he says of SLAM! students. "My mother always told me, 'No one is dumb or stupid. You just have to figure out how you learn.' Some students are better readers, some are better at math, while others excel at hands-on learning."
In 2013, Pérez helped open the first SLAM! (Sports Leadership and Management) tuition-free charter school in Miami's Little Havana neighborhood, where he once lived. It teaches students in grades 6-12 how to be successful in various careers and offers them hands-on experience. Last year, the Miami campus launched a radio station, becoming the first student-run SiriusXM station in the country. Students produce live shows and voiceovers, record podcasts and operate station equipment.
"At SLAM!, we've remixed and modified the curriculum to make it engaging and exciting for kids," says Pérez, who serves as SLAM! ambassador. "To me, that's priceless. Because, once you can engage a young mind and teach them that, in the word 'impossible' is 'possible,' they take that knowledge to another level."

Today, he's proud that SLAM! has grown to encompass 10 charter schools nationwide, including in Florida, Georgia, Nevada and Texas. In 2018, SLAM! opened a campus in Boca Raton, and, next year, an Arizona school will debut. Pérez says that the schools' innovative model has been successful in engaging even high-risk students and showing them learning can be fun.
"Ninety-seven percent of the kids at the SLAM! school in Miami come from the same neighborhoods I grew up in," he says. "When I speak to them, I can often see in their eyes that something is going on at home, whether it's a family that just came to the states, domestic violence, drugs or some other obstacle, and the opportunities at SLAM! can help motivate them. To me, that's what legacy is all about."
Millie Sanchez, chief administrative officer for the SLAM! Foundation in Miami, says the charter schools prepare students for careers in health, broadcasting, sports medicine, marketing and the sports industry.
"Education is important to Armando," she says. "He had a teacher in high school who believed in him, and he knows the importance of having someone who motivates and encourages you."
This year, because of the pandemic, SLAM! students weren't able to have a traditional graduation ceremony, so Pérez gifted each of them a surprise Coolpad Legacy S smartphone and two months of prepaid phone service when they picked up their caps and gowns.
"Armando regularly visits all of our schools to empower and motivate students," Sanchez says. "He frequently tells the students he believes in them and knows they're capable of achieving success."
Pérez considers it an honor to have the charter school's first campus built in his old neighborhood of Little Havana.
"It goes to show you that, in the word 'impossible,' is 'possible,'" he says. "If you take the word 'impossible,' and add an apostrophe, it becomes, 'I'm possible.'"
Pérez sees SLAM! as an extended family.
"I tell people I have 10,000 kids," he says. "I consider all of the SLAM! kids my family."
With a graduation rate of 100 percent at SLAM! schools, there are many success stories, Pérez says. One student he remembers fondly is Sergio Garcia, a breakdancer who was in SLAM! Miami's first graduating class.
"When I met Sergio at school, he didn't ask me for a photo or an autograph; he asked for some career advice," Pérez says. "He really impressed me with his demeanor, approach, confidence and drive. I wouldn't be surprised if we became business partners in the future."

Garcia knew that, after graduation, he wanted to open a breakdance school. Today, he's not only achieved his dream, he's also become one of the top breakdancers in the country.
"I'm constantly impressed by this generation," Pérez says. "They're going to be the next world leaders."
Pérez remembers one of his own high school teachers, Hope Martinez, telling him, "The biggest risk you take in life is not taking one."
Her advice resonated with Pérez, and his love of music led him to become a Miami street rapper in the early 2000s. He performed on a Lil Jon album in 2002 before releasing his first album, "M.I.A.M.I.," in 2004.
Since then, Pérez has released 11 studio albums and more than 300 singles, collaborating with artists like Shakira, Flo Rida, Chris Brown, Kesha and Daddy Yankee.
"I'm thankful for everyone who has given me the opportunity to bring different worlds together with our collaborations," Pérez says. "The late Cuban singer Celia Cruz was one of my biggest musical inspirations, and I would have loved to collaborate with her. But, with technology, we're finding ways to keep her legacy alive and also possibly record a song with her. Us speaking about it today – we're going to speak it into existence."

Pérez's musical collaborations have led to an array of hit songs, including "Timber," with Kesha; "On the Floor," with Jennifer Lopez; and "Feel This Moment," with Christina Aguilera. He has recorded albums in both Spanish and English, refusing to limit his music to one specific language or style. As a result, Pérez has introduced fans to Spanish words such as his signature catchphrase, "Dale" (meaning "go ahead" or "give it").
In the future, Pérez would love to collaborate with more artists; rapper and music mogul Jay-Z is at the top of his list.
"I have a lot of respect for Jay-Z because we came up in the same way but in different areas of the country," he says. "He's taken his life from a negative to a positive, and that's also my life."
Turning negatives into positives is one of Pérez's core philosophies, both in his career and philanthropy. This year, due to the pandemic, he offered fans the chance to live stream four of his concerts.
"During a tough year like this, you do what survivors do: You reinvent, recreate and recharge. You challenge yourself. You pivot and recreate opportunities," Pérez says. "Not only for yourself but for everyone else. While I couldn't tour this year, I think these live stream concerts give fans a place to escape, dance, enjoy and forget about the negativity in the world right now. We need that."

Feeling that he wanted to do more for fans during the pandemic, Pérez released a new single this spring, "I Believe That We Will Win [World Anthem]," the music video for which was shot at SLAM! Miami. One hundred percent of proceeds from the song go to Feeding America and the Tony Robbins Foundation. He also hopes the song offers listeners an uplifting message.
"When it comes to fear, you can either forget everything and run, or you can face everything and rise," Pérez said when announcing the new single via his YouTube channel. "Feeding America has seen an increase in demand since the start of COVID-19, and Tony Robbins has a goal of providing a billion meals."
Despite the severity of the pandemic, he remains hopeful that the world will emerge stronger.
"There's a saying: 'God closes the door to open a window.' And, once you open the window, it's a beautiful view," he says. "I think it's a blessing in disguise for the whole world, in one way or another. When this is over, it will all make us more appreciative. Like Tony Robbins says, 'Trade your expectation for appreciation and the world changes instantly.'"
Since he's not touring, Pérez has used the downtime to enjoy all that South Florida, an area he continues to call home, has to offer.
"Key Largo is a slice of heaven on earth," Pérez says. "I love being on the bay and out on international waters, where I'm off the grid and can relax and have fun, enjoy and get loose. I have a circle of friends I like to be with. We can tell all the jokes we want and think outside of the box."
Boca Raton is also one of his favorite cities in South Florida, and he raves about the vibe he discovered when he first spent time here four years ago.
"I found a couple of spots that I'd rather keep low-key, but I want to let everyone in Boca know that I love it there, and you'll never know when you might run into me," he says.
Embracing his Cuban roots is important to Pérez. His most recent album, "Libertad 548," is a Spanish-language record that features collaborations with Blake Shelton, Daddy Yankee, Natti Natasha, Wisin & Yandel, Prince Royce and Ludacris. He plans to follow up the success of that project with a new album, "Timeless."
"My favorite thing about the Cuban culture is that – nosotros resolvemos – we always find a way to make it happen," he says. "We have resilience; we have ways to look at a problem and create solutions. And I think right there, a twist of chispa, you know a certain charisma, is what allows us to survive and not only survive but also to thrive."

Looking ahead to the end of the year, Pérez says he will once again host his VIP New Year's Eve party on Dec. 31 at Bayfront Park in Miami.
"To be honest with you, to be able to show everyone how special the city is and what it means to me – and these people get to dance and have a good time and lose their mind," he says. "Every year we do it; this year, clearly, will be a little different."
With 2021 quickly approaching, he plans to continue lending his time, money and voice to causes that are near and dear to his heart. He acknowledges that his philanthropic efforts are diverse.
"With whatever may be going on, I create disaster funds," Pérez says. "I do it out of my heart. Sometimes, I'm able to touch families specifically. They don't necessarily know it's me; I'd rather be anonymous."
He says his own life experiences have inspired him to give back.
"Never give up – I say that all the time," he says. "There's no problems, only solutions; no losing, only learning; and no failures, only opportunities."
Pérez adds: "Living is giving. And one of the most important parts of life is what you leave behind."
by Linda Childers